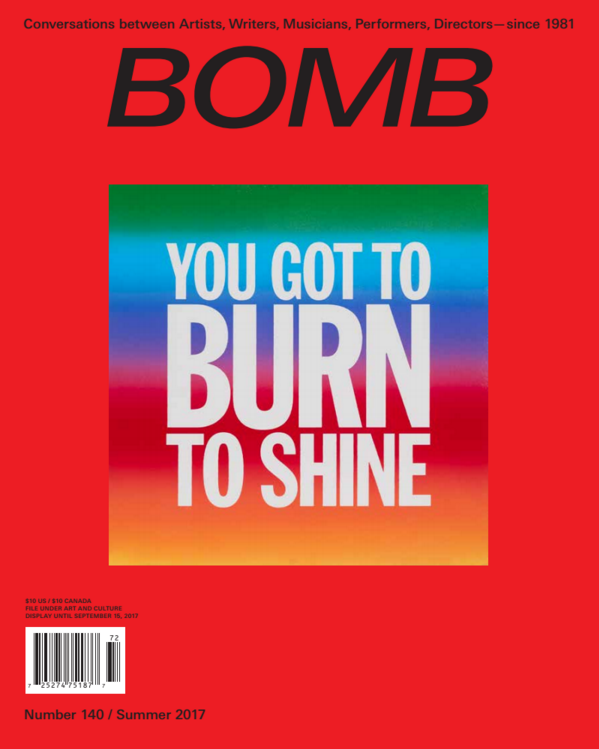 Event
BOMB Magazine – Summer Issue Launch
Join us for a toast to BOMB 140, with readings by Ari Braverman, Todd J. Colby, Andrew Durbin, and Aimee Herman.
There will be wine, mingling, and revelry.
Attend on facebook here
Ari Braverman is from Iowa City and Denver by way of New Orleans. She was awarded a 2015 De Alba Fellowship from Columbia University and has stories forthcoming in the newest issue of Tammy Journal and at SmokeLong Quarterly. Her interviews can be found online at Antenna's Room 220, Electric Literature, and Guernica. She is an assistant editor for Conjunctions, and lives in Harlem, New York.
Todd Colby is the author of six books of poetry, most recently Splash State (The Song Cave, 2014) and Flushing Meadows (Scary Topiary Press, 2012). He was the editor of the poetry anthology Heights of the Marvelous: A New York Anthology (St. Martin's Press, 2000) and serves on the board of the Poetry Project. He was the lead singer for the band Drunken Boat.
Andrew Durbin is the author of Mature Themes (2014) and the forthcoming novel MacArthur Park (2017), both from Nightboat Books. He lives in New York.
Aimee Herman is a performance artist, poet, and teacher with two full length books of poetry. Aimee has been published widely in journals and anthologies including cream city review, ADRIENNE, Cake Train and Trans and Genderqueer Poetry and Poetics. In addition to writing, Aimee also curates and hosts a monthly series at Dixon Place called Queer Art Organics featuring LGBTQ writers and performers. For more, go to: aimeeherman.wordpress.com